Dear Customers,
Effective Nov 8, 2011 FreedomAtHomeTeamLeads.com will be closing and customer accounts will be moved to our partner site, HBBLeads.com.
You will still be able to retrieve your leads from previous orders with the same login information used previously at FreedomAtHomeTeamLeads.com.
To login to your new customer account at HBBLeads.com please click here.
We feel this will be a beneficial move as HBBLeads.com offers many features and products in addition to the great customer service and leads you were already receiving.
Here are a few features and benefits available at HBBLeads.com:
Select from over 20+ lead types

Lower Prices

Delivery to MLMProBurner + Free Leads

More Special Offers and Discounts

More Training

Same great customer service, lead quality, and more.
We would like to make this transition as easy as possible for you. If you have any questions please contact us at hbb@leadcustomerservice.com or call us at 800-881-4742 Mon-Fri 10am-4pm Central Time.
Thank You,
FreedomAtHomeTeamLeads.com
Save 15% On Your First Order
Enter Coupon Code:
newcustomer

expires 11/14/11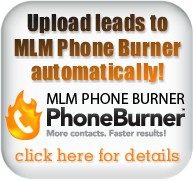 Welcome to FreedomatHomeTeamLeads.com
Experts agree that what separates the winners from the losers is their ability to find high quality leads. The best marketing executives know they cannot afford to waste their time on poor prospects. Freedom at Home Team Leads excels in providing excellent sales prospects.
Our Leads are fresh, responsive & genuinely interested in pursuing a home-based business...by far the hottest Leads available anywhere.
About Us
Freedom at Home Team Leads has partnered with one of the premiere lead generation and distribution companies in the world to bring you top quality leads at competitive prices. Our team includes media buyers with 40 years combined Internet Marketing experience. Our approach from day one has always revolved around one key concept, how to deliver the best Return-On-Investment (ROI) for our clients. Our team has been in the lead business since 1996. We now build smart software that enables us to be better direct marketers and to identify, target, and acquire leads using a global perspective. Through permission based marketing, banner & pop-up advertising solutions, we enable Home Based CEO's to unlock the power of e-marketing for their home-based businesses.
How Are They Created
We pride ourselves in the fact that we have negotiated premium traffic at affordable costs to generate leads for Freedom at Home Team Leads. We work with over 1000 affiliate partner sites that can deliver leads that are interested in starting a home based business. In order to serve you better we have implemented some of the "best practices" in customer service. Not only do our leads respond, so do we.